Discussion Starter
·
#1
·
Hello everyone,
So, last weekend I went to visit one of my cousins who lives in Gatineau, the Quebec side of Ottawa's metropolitan area.
I left Friday 6:00am so I didn't have to spend 3 hours just trying to leave the city, It was worth every minute of not sleeping in. Took me a total of 30 minutes to go from my place all the way across Manhattan to NJ.
Wasn't racing but there was no traffic at all.
I planned to make 2-3 stops only, every 150-200 miles, stretch, fill tank, empty bladder, eat a energy bar, drink lots of water, clean helmet's shield, eye drops, make sure everything looks good on the bike, and go.
Crossed NJ, and PA, the took 87th up all the way to 1000 islands, I wish I had some king of camera I can attach to my helmet and activate to take a picture when blinking my right eye. So many cool things on the upper NY.
I got to my destination around 3:00pm, everything on perfect order but my right wrist was a little soared.
Couple of things I'd like to share, and take that from my personal experience.
Next purchase (soon) will be a cruise control, I sent an email to my dealership to see if I can install the same cruise control from the R1200RT on to my bike, that will be perfect and a real cruise control, otherwise I'll consider the brakeaway one, I'm not sure about the friction, I'm afraid I'll crash.
I remember doing 400ish mile ride before and how bad my butt hurt, I didn't needed to stop for anything but my ass pain, some of you know about my purchase of and air hawk R and why did they called it the "R"? may be coincidence, "may be" but it fits the original seat like it was made for the bike.
It's super comfortable and I didn't even think about my butt until I was in the Canadian side, and it wasn't in pain just little tired.
I was about to buy a GPS, then I learned that the new iPhone 5 will have turn by turn GPS for free, even if I get the phone before my contrac ends and I can get it with discount, still will be cheaper then the Garmin zumo.
For this trip I downloaded the app
Free GPS Navigation with Turn by Turn - Waze
and it works pretty good, they even give you heads up if there is a cop on the road beforehand, it is like a social media app/GPS, if there is a checkpoint, accident, traffic etc....... and a member driving by updates their status, anyone using this app driving around will be warned, brilliant.
I used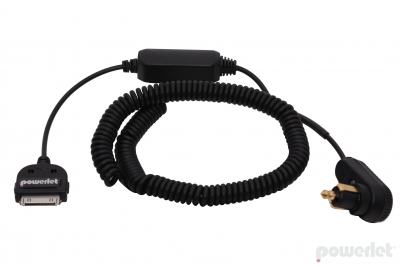 To keep my phone running all the way there, I made and receive phone calls and my phone was always 100% charged.
I also have a helmet Bluetooth to be able to hear the turn by turn directions, hear the warnings, make and receive the phone calls, and listen to music.
I have never use it for more then 4-5 hours in a day and I was worried the battery will g run out, for my surprise I got there after 10 hours of continues use and the battery was still alive, there is a way to see the battery level, but only has 3 levels, full, medium and almost empty so, on my way back home on Monday I left the device turned on on my table, it's being only standing by since then but the LED light still blinking
It's Friday BTW.
The speakers have a pretty clear sound, they are extremely thin so you don't even feel them inside your helmet, the microphone works pretty well to, I had a 320 minute conversation with the wife at a constant 60-70ish MPH, no problem and she couldn't believe I was going that fast and no wind noise was present on her phone.
I bought the set of 2 which are factory paired to intercom, I have use it with the wife and I have to say it works like we where having a conversation inside a car, makes the ride better by being able to talk to your passenger, she loves it too.
Scala Rider Cardo Scala Rider G4 PowerSet | Helmet City
I had so much fun with my cousin, she has 3 little girls, 6,3 and 1 . The 3 year old is insane and made me laugh like crazy, I stopped by the Disney store the day before and got them stuff animals of the 3 Caballeros and the DVD, One of my big time favorite movies when growing up. They where very happy and they made me watch it in Spanish, English and French