2012 R1200R, K27, Light-grey Metallic
I need to have an USB socket to power my phone while navigating. For that purpose I ordered this item: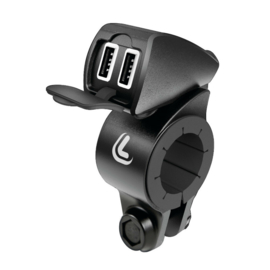 De Lampa USB Fix Trek maakt het gemakkelijk om tot twee aparaten tegelijk op te laden op de motor. Het is een klein onderdeel, waardoor het niet snel in de weg zit.

www.motormount.nl
But I hate attaching things to the handlebar and because of the thickness of the handlebar in the middle this mount looks horrible.
The mount and the socket itself are detachable, and this evening I came up with a solution.
Just a small piece of aluminium strip, with a 8mm hole for mounting it behind the sport windshield bracket.
Bend it a little et voila! I used the shaft of a screwdriver for a nice radius. And I used 2 buttonhead screws to mimic the original slide-on mount like on the original handlebar mount. It works beautifully. Maybe paint it black, but the alu color is fine too. There is no copyright on this idea, but credits and a beer if you are in the neighbourhood is much appreciated 😁
Now I just have to go find a BMW nav-prep connector so I can connect the socket through the connector in front of the tank.
Suggestion anyone?