As you've probably heard Intel say,"It's what's INSIDE that counts!"
So, today changing my oil, I wondered what's inside my little shorty "black bauble."
BMW R1200R Oil Filter Part Number: 11 427 673 541 $20.23
Compared to other bike & some car oil filter dissections, I was pleasantly surprised.
Our little "shorty" black oil filter has good construction and uses quality metal parts inside.
Thumbs Up !!!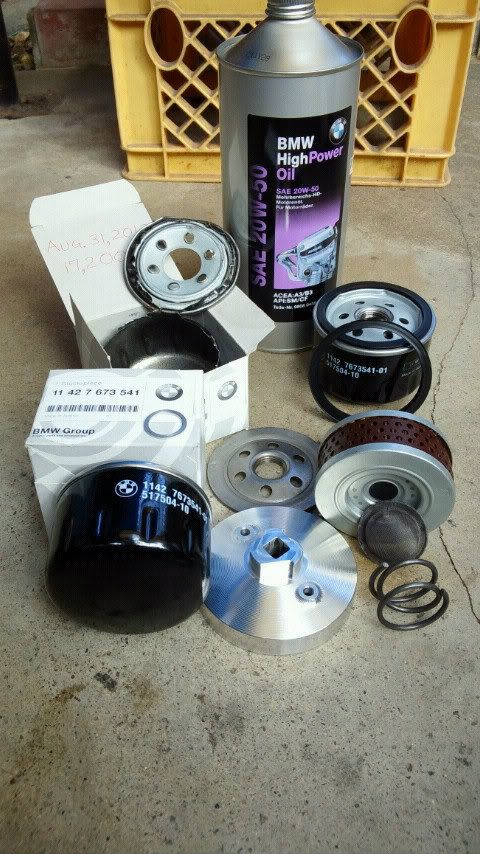 FYI: Our R1200R is covered with Torx fasteners, but the oil drain plug is a Hex-head.
Do you think that's funny??? I laugh outloud everytime I change oil.
AND, It's the same part number for the drain plug and aluminum crush washer
as ALL the other 1100 & 1150 series bikes. Some things never change.
Screw Plug ( Oil Drain Plug ) BMW Part Number: 07 119 902 292 $2.83
Gasket Ring (aluminum crush washer) Part Number: 07 119 963 252 $0.57
I always fill the new oil filter with fresh oil before screwing it on.
This takes about 150cc of oil. Pour slowly into the center and let it soak in.
Helps prevent oil starvation for a second when you start it up.
Always put a thin coat of oil on the rubber gasket.
Resist the temptation to over-tighten the oil filter & drain plug.
FYI: The SILVER oil filter for the Oilhead will go on our bikes. Same diameter & same threads.
Uses a different wrench, but a band or belt type filter wrench should do it.
It is about one inch longer, thus the inner filter is larger. (about 2X)
In a real pinch, for a short time, it should work. IMO
I DO NOT suggest you do it. Warranty Issues. (CYA)
Being longer, it will protrude from the bottom of the engine another inch or so.
Off- road use, or even around town, curbing, dips leaving the P into the street, clearance issues may arise.
The GS skid pan is a bolt on, plug-n-play add-on for the Roadster.
Did you know that? Underride Protection PN: 11 117 717 743
Asked my dealer IF the safety bypass pressure was the same. Said he didn't know.(CYA)
If the filter becomes clogged, a bypass valve opens to protect the motor.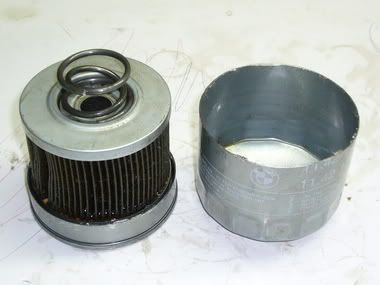 The part numbers are listed here for FORUM members who are NOT going to install one on their R1200R,
but simply want to have the information available to help a stranded friend who asks, "Will it Fit?"
Oil Filter ( Silver ) PN: 11 421 460 845 $24.34
Screw Plug M16X1.5 PN: 07 119 902 292 $ 2.83
Gasket Ring A16X20 PN: 07 119 963 252 $ 0.57